R.I.P. Grandpa Elmer: Lessons from Another Generation
This Saturday, a mere 92 years after it all began, my grandpa Elmer shook off this mortal coil...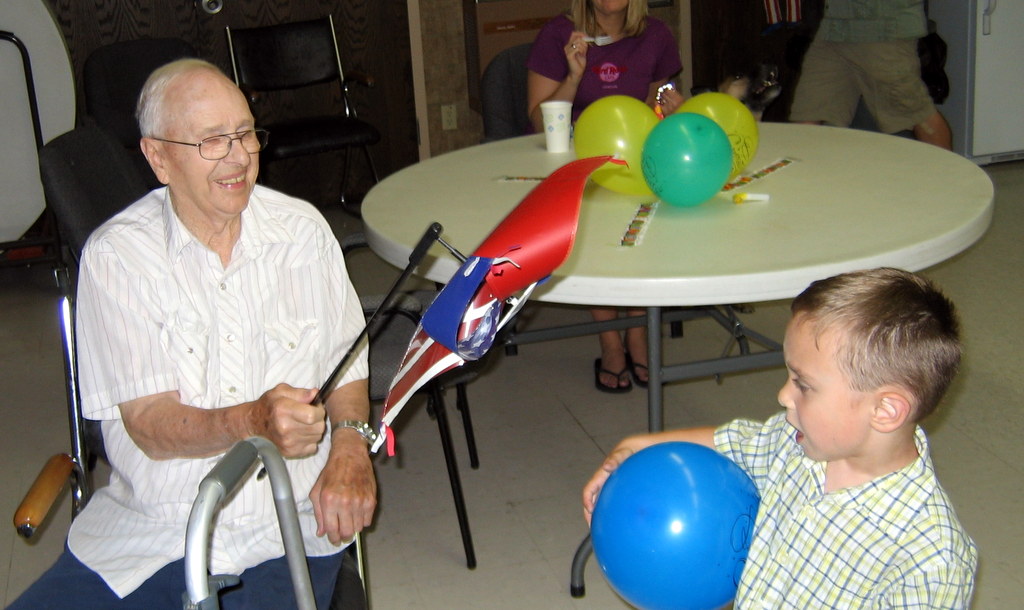 And just as when Grandpa Jim went on to the next great adventure, I tasked the old subconscious to pull together a memory or two of our time together. And like a good tool, the ol' noggin provided a few...
Minibike riding Many a trip to Grandpa's involved cruising on the little minibike he had for the grandkids. Every summer trip seemed to be filled with mile after mile after mile of aimless wandering whenever we came to visit. And despite the fact that I never saw him hovering around when I was riding, he always seemed to appear whenever I managed to need a little mechanical assistance... :) Lesson learned: A little freedom is a wonderful thing. A lot of freedom is even better!
BB gun shooting A BB gun, an essentially unlimited supply of BBs, lots of birds to shoot at, and lots of my uncle's shelled out '57 Chevys lying about Grandpa's place. Along with the occasional not-so-shelled-out '57 Chevys. What could go wrong? Think Nomad back window shattering... Lesson learned: With great power comes great responsibility...
Bandsawing Some of my favorite times with Grandpa were spent in his workshop in the barn, which was filled with many a tool of potential mass destruction. My favorite was the bandsaw, upon which I was somehow let lose on with minimal supervision despite the fact that it could certainly have made short work of my young fingers if I weren't paying attention. Much randomness ensued... Lesson learned: Instructions? Who needs instructions?
Climbing trees with riding mower Another favorite thing to do whenever visiting the grandparents on the farm - using the riding mower.  Amazing how a job to an adult can be play to a child! Anyway, my strongest memory of the riding mower was the first time using it. Very little instruction other than how to start it, and a stern warning to be careful. Shortly followed by my attempting to climb one of the many trees on the property with the mower, as I had little idea how to stop the thing, and absolutely no idea on how to go backwards with it once head on with said tree. Lesson learned: Well, a little bit of instructions might be a good thing!
Bullhead cleaning Somehow I always got both Grandpas to take me out to a local fishing hole whenever we made it back. And somehow, we always ended up with a bucket full of fish that we actually ended up eating. But before that, we had to clean the fish, which - to those of you unfamiliar - is just about the opposite of what it sounds like. Cleaning fish is just about the messiest thing one can do with 'em! A bucket full of egg-laden bullheads + a curious city boy made for some oddly disturbing fun... ;) Lesson learned: Sometimes, even the cleanup is fun!
Buckets of ice cream (which grandma would later use to turn into buckets of cookies) No good day ends without a little sweetness. Say, with a big bowl of ice cream? Or how about a few dozen of your favorite grandma's cookies set aside for you in one of those empty gallon ice cream buckets? Or, hell, how about both? ;) Lesson learned: Never forget to recycle...
R.I.P. Grandpa! I'll miss you, and of course, love you lots!